MYOB
MYOB develops and publishes award winning software solutions that have revolutionised the way growing businesses view accounting and business management software. To her excellent array of experience in bookkeeping and financial management, Angie adds membership of the MYOB Certified Consultant Panel, an Australia-wide group of independent consultants professionally endorsed by MYOB. MYOB Certified Consultant accreditation means that Angie has demonstrated a high level of knowledge, skill and experience with MYOB products. Angie has met stringent selection criteria, is continually updating her skills and undertakes an examination every year to maintain her MYOB Certified Consultant accreditation. As an MYOB Certified Consultant she receives a continual flow of information, resources and knowledge from MYOB to ensure that she is up-to-date with the latest product developments, tips and techniques.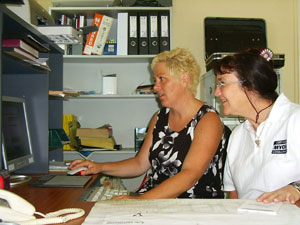 Angie can help you with:-
Product demonstration
Software sales, installation & setup of chart of accounts
Customisation of invoices, statements, purchase orders and reports to give your business a professional looking edge
Setup of M-Powered Services including Super, Invoices and payments
One-on-one, onsite training tailored to your abilities and needs,
Showing you the functionality of BASLink, and MYOB customisation tips and tricks.
Monthly record reviews and troubleshooting
"SHE'S MY MYOB LADY - SHE KEEPS ME OUT OF TROUBLE AND SHE HELPS ME TO GET EVERYTHING RIGHT"
Sharlene Page - Landwaste Equipment QLD - Yamanto
As an MYOB RetailManager Professional, Angie can assist your business with supply of MYOB Retail Manager software installation and setup, choosing the right hardware and peripherals for your point of sale solution, and integrating RetailManager with your MYOB accounting software.
The MYOB RetailManager family of products replace the cash register with a point-of-sale system that streamlines store operations and manages sales, stock, staff and customers. Run in conjuction with one of the MYOB Accounting programmes you can have the total solution for no fuss, profitable retailing, accounting and business management. Angie can provide you with on going support and on-site visits to upskill staff and keep an eye on record integrity. She can also help with nifty "add-on" programmes for Customer Loyalty programmes and specific Sales & Service businesses.
Angie holds an MYOB PowerPay Aware accreditation from MYOB, so if you have more than 10 employees with complex payroll provisions, she is able to help with the solution for you.